NEW DELHI: Have you been feeling a chill in the air while waking up early in the morning or when heading to bed at night? Minimum temperatures in the capital have been consistently below normal and dropping steadily over the past few days, and could fall below the 20-degree mark by October 4, the met department has forecast.
After the monsoon's retreat and with the cooler, northwesterly winds now blowing from the mountains, met officials said a chill was being felt at night and in the morning. This occurs when the minimum temperature reaches 20 degrees Celsius or lower.
By contrast, day temperatures have been two to three notches above normal as the sun beats down over the region that has been largely cloudless for many days now.
Clear skies leading to cooler nights
Experts said the drop in night temperatures could also impact the city's air quality, which would inch closer towards the poor category in the coming days.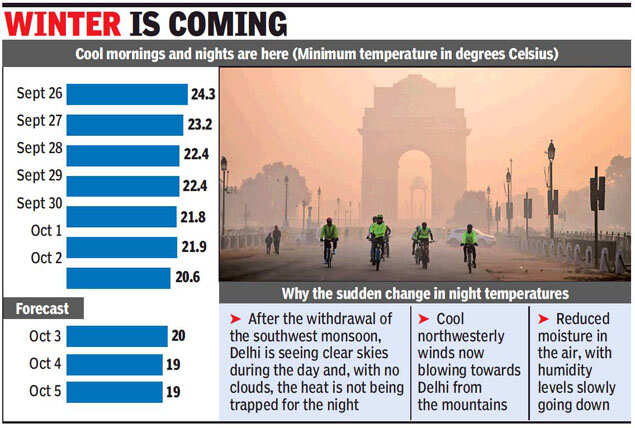 Delhi recorded a minimum of 21.9 degrees Celsius on October 1, one degree below normal. On Friday, the minimum was 20.6 degrees Celsius. Kuldeep Srivastava, scientist at IMD and head of Regional Weather Forecasting Centre, said temperatures could drop to around 19 degrees or lower by October 4 because of the northwesterly winds.
"After the withdrawal of the southwest monsoon, we have had clear skies during the day. This doesn't trap the heat. Nights have, therefore, become cooler with the wind direction changing to northwesterly. As western disturbances bring rain and snow further up north, especially in the mountains, the wind blowing towards Delhi will become even cooler," said Srivastava.
In contrast, the minimum temperature on September 26 was 24.3 degrees Celsius and 23.2 degrees the next day. IMD officially declared that withdrawal of monsoon from Delhi on September 30, five days after the "normal" date. Forecast for Saturday shows minimum temperature hovering around 20° C and around 19° Celsius between Sunday and Thursday.