NEW DELHI: Sustained showers since Sunday, including two days of "heavy" rainfall, have reduced Delhi's monsoon deficit from 55% last week to 16% now, bringing the capital in the "normal" category for the monsoon season, IMD data shows.
Delhi's base station, Safdarjung, has received "excess" monsoon rain with 306.7mm recorded so far against a normal of 215.3mm, which is 42% surplus.
In July, three of Delhi's weather stations — Safdarjung, Palam and Lodhi Road — are in the "excess" category now in terms of rainfall received this month, recording 50%, 37% and 64% more rainfall than the normal. While the normal for Safdarjung for the month of July is 210.6mm, it has already received 225mm of rainfall till July 23.
Wet spell: 3 districts have now received 'excess' rain
Kuldeep Srivastava, scientist at IMD and head of the Regional Weather Forecasting Centre (RWFC) says Delhi generally tends to record good spells of rain towards the end of July, with a good possibility of heavy rain.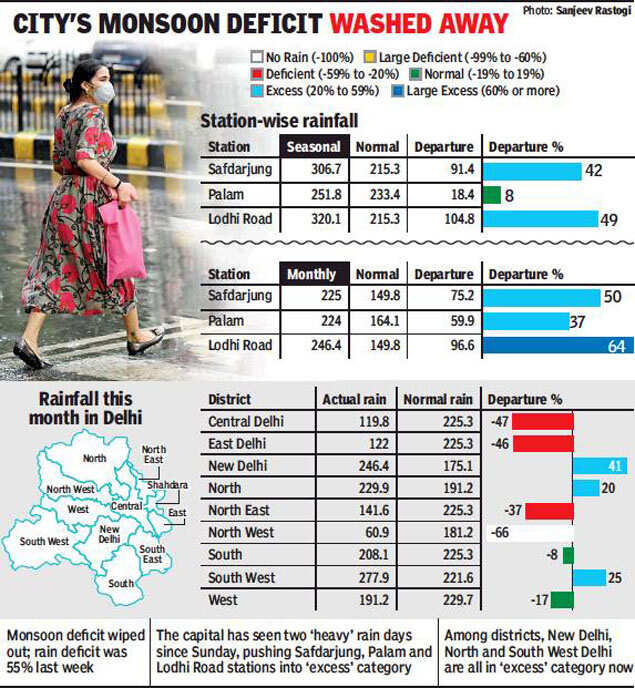 "A shift in the monsoon trough had brought intense rain to the region and so far, two days of heavy rainfall has already been recorded. There is a possibility of Delhi recording heavy rain on Saturday as well," said Srivastava. He says Delhi is likely to witness light rain this week, with spells of moderate rain occurring in between.
In terms of district data, at least three of Delhi's districts – New Delhi, North Delhi and Southwest Delhi are now in the "excess" category. Northwest Delhi however continues to suffer the most, recording only 60.9mm of rainfall this season, a "large deficit" of 66%. Central, East and Northeast districts are also in deficit, IMD data showed.
The IMD ranges categorizes rainfall between -19% and 19% as "normal", between -59% and -20% as "deficient" and between -99% and -60% as "large deficient" on its index.
The capital had received 67.6mm of rainfall at Safdarjung on Wednesday, while Palam had recorded 81.2mm in a 24-hour duration. Lodhi road also recorded 71.9mm of rainfall on Thursday. Rain is classified as 'heavy' when it is above 64.4mm in a 24-hour period.
Forecast for Friday shows light rain is likely to occur in the capital, with a maximum and minimum of 34° and 24° C, respectively, met officials said.